Infoplex Communications
P.O. Box 375
Indianola, IA 50125
(515) 442-0144

E-mail: hosting@infoplex.com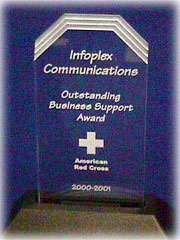 Infoplex Communications offers a complete range of consulting services for custom web development and Internet hosting. We offer CGI programming in Perl, Java servlet programming, and SQL database integration with your web site. We can also do remote systems administration for a wide variety of UNIX and Linux platforms.

If you need hosting for a web site, we offer a robust server environment with a variety of custom CGI scripts and Perl utilities that can enhance your site. We also offer customized web database integration and an attitude toward customer service that will delight you.

If you have needs for multimedia development and print production services, we can create interactive content using Macromedia Flash and Shockwave programming as well as tradional desktop publishing services.
| | |
| --- | --- |
| | Web construction specialists... (Go ahead...steal this icon!) |